Bayobab propels Nigeria's connectivity landscape with National Long-Distance Operator License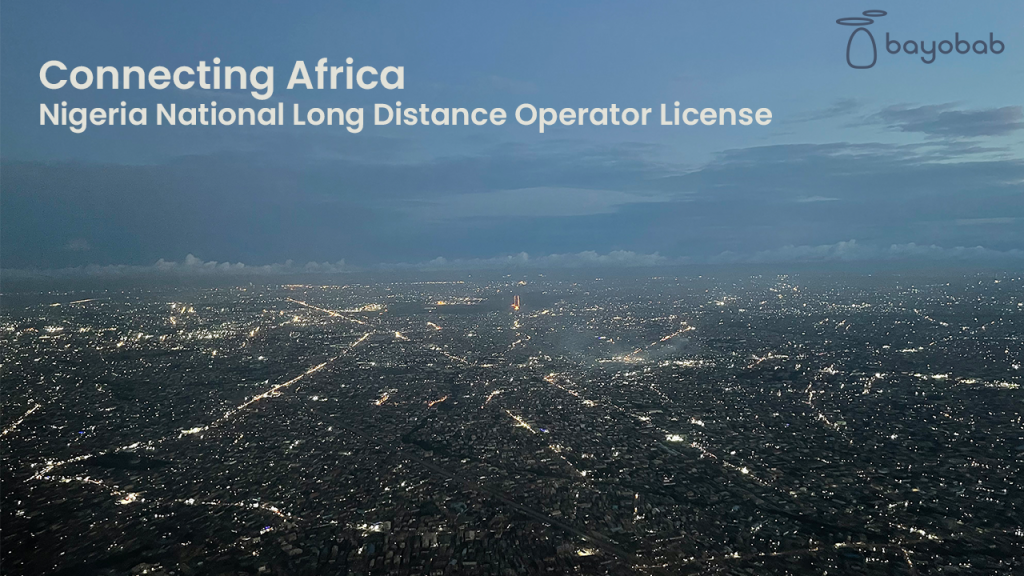 Bayobab Group (Formerly MTN GlobalConnect) is pleased to announce that it has been granted a National Long-Distance Operator License by the regulatory authorities in Nigeria. This license ushers in a new era of connectivity that is essential to meeting the surging demand for data within the country's borders. Bayobab's subsidiary in Nigeria is now empowered to facilitate long-distance traffic, opening doors to enhanced communication, collaboration, and innovation.
Frédéric Schepens, CEO of  Bayobab Group, expressed, "This achievement marks a transformative moment for us, as we look forward to contributing to the growth and development of Nigeria's digital economy. At Bayobab, we are committed to pushing the boundaries of what's possible in the realm of connectivity." He further emphasised, "This license is a testament to our dedication to delivering seamless and advanced connectivity solutions to our clients and partners. We believe that connectivity is the foundation upon which innovation thrives, and our unwavering dedication to excellence and innovation will continue to guide us as we embark on this new chapter of delivering next-gen digital connectivity across Nigeria." Concludes Frédéric.
In a dynamic era of digital transformation, Nigeria's connectivity landscape has undergone remarkable growth, altering how its population accesses information, conducts business, and engages globally. With a population exceeding 200 million, as reported by GSMA Intelligence, the adoption of digital services by governments, businesses, and consumers is fundamentally reshaping daily life in Nigeria. Mobile technology is playing an instrumental role in the nation's economy, where mobile broadband is the predominant means of internet access, unlocking new possibilities. The surge in digital services, ranging from the realms of mobile financial solutions to dynamic e-learning platforms, has ushered in a revolution in the way Nigerians engage with essential services, fueling an escalated demand for data.
Nigeria is recognised as Africa's largest ICT market, accounting for about 82% of the continent's telecom subscribers and 29% of its internet usage. In alignment with the visionary Fiber Ambitions Policy set forth by the Nigerian Communications Commission (NCC), Bayobab Nigeria is poised to make significant contributions towards shaping this transformative landscape. As a principal player, Bayobab Nigeria is committed to enhancing connectivity, thus further propelling Nigeria's digital evolution.
Josephine Sarouk, Managing Director of Bayobab Nigeria, shares, "This license embodies the pulse of innovation, the cadence of progress, and the harmony of collaboration. We are not just connecting points; we are weaving an intricate tapestry of possibilities through seamless connectivity, enabling the benefits of a modern connected life across Nigeria."
As Nigeria's connectivity landscape continues to rapidly evolve, it stands on the cusp of even greater growth. The nation's embrace of technology, coupled with ongoing efforts to promote digital inclusion, paints a promising picture of a future where connectivity emerges as the driving force behind economic growth, innovation, and societal progress.