MTN GlobalConnect expands to Kenya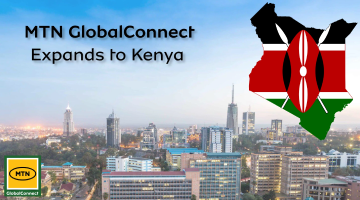 30 March 2022: MTN GlobalConnect has acquired MTN Business Kenya to transform its operating company into a dedicated wholesale and infrastructure hub in Kenya. As part of our strategic ambitions to digitally transform our business, this is the first milestone in MTN GlobalConnect's fibre railroad deployment plans to shape its Pan-African infrastructure expansion. As part of this transformation, our team in Kenya will continue to look after their customers, while reshaping the business to service wholesale and infrastructure.
Digital transformation has been an important aspect of East Africa's economic growth over the last 15 years; Kenya was a natural selection for MTN GlobalConnect to kick-start its Pan-African fibre railroad journey. The decision to invest in Kenya is also underpinned by an efficient telecommunications policy and regulatory environment and the Government's objective to position Kenya as a hub for information and communication technologies, and digital services.
Commenting on this acquisition MTN GlobalConnect Chief Executive Officer Frédéric Schepens said "We have prioritised the Republic of Kenya to form part of our fibre rollout owing to its strategic location in the East African Community bordering five countries, its access to the 2Africa subsea cable at Port Mombasa, and that doing business in Kenya furthers our belief that everyone deserves the benefits of a modern connected life."
MTN GlobalConnect continues to inject incremental foreign and direct investments across Africa to build the much-needed terrestrial backbone with an extensive fibre-optic network that will expand broadband connectivity and further integrate the continent.
MTN GlobalConnect is committed to extending and accelerating fast and affordable broadband access from the East to the West of Africa. This investment will interconnect countries by building digital hubs and connecting landlocked countries to subsea cables.
The initial 2021 investment in Kenya exceeded 9 million US Dollars with a 35% growth in headcount. The newly appointed Managing Director, Sylvia Anampiu who joined on the 15th of February 2022, has taken the helm to lead the Kenyan business as it expands its services.