MTN GlobalConnect wins Fastest Corporate Growth award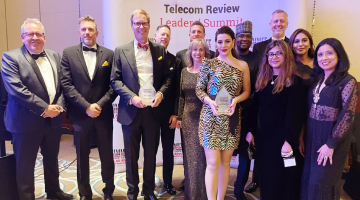 Dec 9th 2021: MTN GlobalConnect is thrilled to announce that it was recognised as the "Fastest Corporate Growth" company at the prestigious Telecom Review Excellence Awards held in Dubai on Wednesday evening.
From 2019 to 2020, MTN GlobalConnect increased both total revenues and EBITDA by 48%, to US$391 million and US$46 million respectively.
The Wholesale Mobility performed strongly in a challenging market environment, growing revenues by 58% in the same period.
In addition, MTN GlobalConnect CEO Frédéric Schepens was presented with the "Leader Merit Award" in the category of CEO of the Year for Infrastructure Initiatives at the 15th edition of the industry publication's awards.
Frédéric commented that "We are honoured to be recognised as the fastest corporate growth company in our industry. The GlobalConnect team has worked tirelessly to scale our infrastructure assets and build the leading Pan-African fibre railroad network. Our journey has only just begun, and we continue to invest in Africa's digital journey."
MTN GlobalConnect currently manages 85,000 km, the largest proprietary fibre network in Africa. At MTN Capital Market Days in June this year, MTN GlobalConnect revealed its plan to strengthen its leading FibreCo position in Africa, building a Pan-African fibre railroad with the ambition of scaling its' fibre footprint to 135,000 km by 2025. Scale, resilience, and open access are the key benefits further enabling our belief that everyone deserves the benefits of a digital connected life.
Established in 2017, MTN GlobalConnect is a Pan-African wholesale infrastructure and mobility services company headquartered in Dubai with a team of more than 27 nationalities doing business globally.