MTN GlobalConnect launches 5G International Roaming in UAE with Etisalat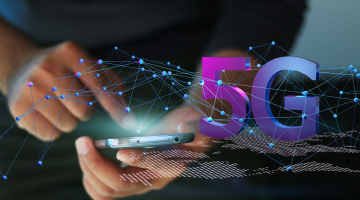 27 Jan 2022: MTN GlobalConnect and Etisalat UAE are pleased to announce the launch of 5G roaming services that provide access to 5G technology for MTN South Africa subscribers when they are in the UAE. With the UAE ranked in the top 20 destinations attracting South Africans, subscribers of MTN South Africa that are roaming in the UAE now enjoy high data speed with their 5G-capable SIMs and devices on the Etisalat network. This is a significant step ahead for MTN South Africa and MTN GlobalConnect to increase quality and embrace data services across the globe.
MTN GlobalConnect continues to expand its 5G roaming footprint and has launched 5G roaming between MTN South Africa and many other partners in Europe, such as Proximus in Belgium and Luxembourg, and Asia with AIS Thailand and Smart Philippines. MTN GlobalConnect is prioritising more 5G international roaming service launches to benefit MTN subscribers wherever they go.
Ali Amiri, Group Chief Carrier & Wholesale Officer of Etisalat, said: "5G is seen as a game-changer with rich potential for the wholesale business bringing maximum opportunities with higher connection speeds, mobility and capacity, as well as low-latency capabilities. This has enabled new use cases and applications positively impacting different industry sectors. This strategic partnership with MTN GlobalConnect will enable MTN South Africa subscribers with superior 5G roaming services and connectivity when they are in the UAE."
Arne Casteleyn, General Manager – International Roaming, MTN GlobalConnect said: "We are extremely excited to have launched 5G roaming with Etisalat UAE. It is one of our most significant data services launches in a top destination benefitting our large subscriber base of South African roamers in the UAE. The central Roaming Team dedicated extra time for testing to be able to successfully launch the international 5G roaming services in a record time. Capitalising on the Y'elloConnect Roaming Hub, we strive to innovate and deploy high-speed data roaming services so our customers can enjoy access to a next-generation network. We continue to partner with global operators and roll out VoLTE and 5G roaming services for our subscribers in MTN operating companies."