Giving Africa the Connectivity and Reach it Deserves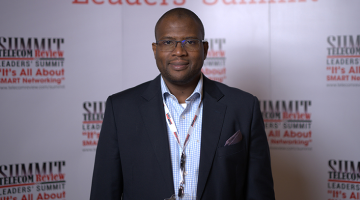 12 Jan, 2021: In an exclusive interview with Telecom Review, Mohammed Aliyu, GM of Fixed Connectivity and Business Development, MTN GlobalConnect, talks about his company's role in accelerating digital transformation in Africa.
How will MTN GlobalConnect customers benefit from its partnership in the 2Africa Consortium?
2Africa is going to be the longest and most diverse subsea cable across the continent of Africa on the west and the east. MTN GlobalConnect is part of that consortium. We're going to be landing parties for five of the cable landing stations.
MTN GlobalConnect is a partner in the 2Africa consortium because we believe everyone deserves the benefit of a modern connected life and we want to actively invest in Africa's digital growth. We are major investors on existing subsea cables on the east and west coast of Africa and have seen these cables reach maximum capacities and nearing the end-of-life status. By taking part in 2Africa, we get to increase capacity for all our operations serving approximately 277m subscribers on the continent, as well as enabling the digitalisation of Africa as we move forward.
Our partnership on the 2Africa cable consortium will bring tremendous benefits to our customers. It will also create diversity and resilience even for the capacities that we take out of Africa on the existing cables. We are proud to be an African investor on the 2Africa cable.
Please tell us about MTN GlobalConnect's role in the development of fibre deployments in Africa.
MTN GlobalConnect is consolidating to provide Africa with the reach it deserves. We operate in 17 countries in Africa today. We have 85,000 kilometres of terrestrial fibre coverage, proprietary owned, that was previously managed and operated by MTN purely for our own use.
MTN GlobalConnect is transforming this asset by consolidating the fibre and offering it as open access to other operators like ourselves, Hyperscalers, and anybody that requires the use of this infrastructure. It's a significant infrastructure that currently fuels hundreds of millions of subscribers. Not only that, but we are aiming to grow our fibre footprint to reach 135,000 km in the next three years as part of our ambition 2025.
We believe that by doing this, we will truly give Africa the leverage it deserves. The fibre coverage won't only be in the countries where we operate today and will include countries beyond our current footprint. To offer everyone the benefits of a modern connected life, it's important to us to connect the whole of Africa, crisscrossing the continent to give it breadth and resilience. Fibre deployment is a key MTN GlobalConnect goal and we intend to pursue it to ensure that we deliver on our mandates.
How is MTN GlobalConnect contributing to the growth of the digital marketplace in Africa?
Our Ambition 2025 is anchored in building the largest and most valuable platform business with a clear focus on Africa. This will rest on a scale connectivity and infrastructure business, making use of both mobile and fixed access networks across the consumer, enterprise and wholesale segments. MTN GlobalConnect is consolidating and rolling out more infrastructure and platforms to support this growth ambition.
MTN GlobalConnect also takes care of all interconnect and roaming for the entire MTN operations, by leveraging the latest technology and capitalizing on the Y'elloConnect Hubs. We also announced the Pan-African API marketplace called Chenosis – the largest library of open APIs published on the continent, ensuring its availability of all these platforms for absolutely everyone to use as they come into Africa. MTN GlobalConnect is on a mission of ensuring to support the digitalization of Africa in good time.
https://telecomreview.com/index.php/articles/exclusive-interviews/5758-mtn-globalconnect-is-focused-on-giving-africa-the-connectivity-and-reach-it-deserves