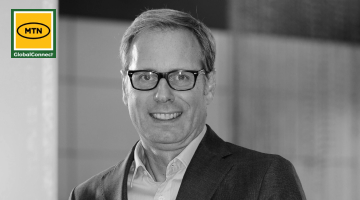 Interview published on Capacity Media on 31 March 2020
The African wholesale infrastructure business, particularly in telecommunications, has developed to a grand scale in the last decade. As the continent fortifies its fibre hardware, Frédéric Schepens, CEO of MTN GlobalConnect, is leading the change, as João Marques Lima finds out.
Q. What has been the main development in the African wholesale infrastructure business?
Ten years ago, the whole of Africa had as much fibre in the ground as a small European country like Luxembourg. With the African data explosion, this picture has changed drastically in the last couple of years, as fibre infrastructure grew to meet the high global demand of local sovereignty of data storage.
Contributing to the need and demand for fibre infrastructure in Africa is the continent's attractiveness to big global players. However, despite the commercial benefits, we see the difference connectivity has made to countries that need it the most, how the lives of people are changed every day by having access not only to standard telecom services but also to the benefits of a modern digital life like education and banking.
There is also a lot of effort going into extending capacity from sea into land. Extending the infrastructure inland offers countries, from the general population, to government and non-government institutions and enterprises, the opportunity to access and enjoy the benefits of digitisation.
Like in many corners of the world, data consumption is growing rapidly, especially having a younger African population with a strong desire to embrace a modern connected way of life. This is one of the reasons why we think of ourselves as global connectors.
Q. What demand is MTN GlobalConnect seeing from this evolving market and how is it servicing the market?
MTN GlobalConnect is your doorway to the African continent in wholesale infrastructure, and we capitalise on the largest backbone in Africa – the MTN.Net backbone that caters for 244 million subscribers.
We see a big blue ocean as an immediate opportunity to partner with enterprises or third-party players who want scale their market entry. Our core belief as the MTN Group is that everyone deserves the benefits of a modern connected life.
MTN GlobalConnect is the wholesale arm of the MTN Group – a leading emerging-market telecommunications group operating with telecoms licences in 21 countries across Africa and the Middle East and a subscriber base of 244 million customers. We are an African born company and located in Africa and the Middle East, close to our core customers.
All our products reflect the needs of this evolving market. As an MTN operating company, our mission is to make sure everyone is connected securely and make the highways of telecommunication accessible and available across the region.
MTN GlobalConnect drives the consolidation of MTN's international and national major wholesale activities, with reliable solutions for fixed connectivity and international mobile services – SMS, signalling, roaming and interconnect.
As the single entry point to the largest network infrastructure in Africa. Over 100,000km of fibre is available and over 10,000km is being built to expand the core backbone, stitching most of the African countries together.
We sell to and buy from other wholesale players. We manage international assets, traffic for MTN operating companies as well as for third parties that we support with a valuable portfolio of services for growing their business and managing their operations. On the mobile side, we launched Y'elloConnect Hubs – our one-stop-shop solutions for international signalling, voice, messaging and roaming.
For all fixed and mobile services, our mission is to connect with all our partners expanding and growing connectivity in Africa and in the Middle East. This is done with a joint value creation mindset led by a multicultural team nurturing strong relationships.
Q. What new products and services is MTN GlobalConnect working on to launch in the near future?
If you were to be a fly on the wall at MTN, you'd see innovation and creativity is driven, as well as localised for, African and Middle Eastern consumer needs.
Ayoba, MTN's instant messaging app, is a great example of this. Ayoba is an independent over-the-top (OTT) brand designed for MTN customers in Africa to better fit the needs of the population.
From an infrastructure perspective our product development team constantly monitors market trends to meet the rapid changes and needs of our internal and external customers.
It's a broad scope as we look to the needs of the MTN consumer, enterprise teams, OTT players, telecom service providers, and carriers.
Some of the new products we are working on include a Y'elloConnect Roaming Hub to improve the roaming experience of MTN customers, further developing A2P messaging and value-added services in wholesale mobility, building and expanding the MTN fixed infrastructure – the data railways of Africa – and repurposing our data centres as well as looking into carrier edge computing centre setups.
Q. Is MTN GlobalConnect currently eyeing any acquisitions to grow the business?
MTN GlobalConnect is always eyeing growth opportunities. We are working hard to be at the forefront of wholesale infrastructure.
In wholesale, partnerships and joint creation are the best ways to scale, so with that in mind we do our best to leave no stone unturned to further strengthen and monetise our wholesale activities and our presence in the market.
We see a big blue ocean as an immediate opportunity to partner with enterprises or third-party players who want to scale their market entry.
Q. As CEO of MTN GlobalConnect, what are your main priorities for 2020/21, not only from a market perspective but also internal business?
We are as good as our people. MTN GlobalConnect is a young company with an entrepreneurial mindset.
To compete we need to stay agile and focused. I focus on our people because I want to keep them inspired and driven. Our belief that everybody has the right to a digitally connected world is the driving force behind making Africa and the Middle East better.
This is how we try to eradicate unconscious biases and drive diversity. We have 16 nationalities and I am a firm believer in gender equality.
I'm a big fan of family-work balance in life and in sports. We have just completed the Bloomberg Relay in the Dubai International Financial Centre this year. We participated in the Virgin Pulse Challenge last year and will repeat it this year too. It's healthy to remind our people to strive for a work-life balance and give themselves a healthy break. I use sports to strengthen my body and mind and encourage our team to do the same.
Additionally, I look for young-minded people who really put the customer first and choose to do the right thing above all. I like to keep things fresh and it's very important to stay competitive and relevant in the digital age. Our employee satisfaction score (eNPS) is impressive and one of the highest within the MTN group – and industry. Keep the people inspired, and the work will follow.
We are investing in digital solutions that will make doing work a whole lot easier. Technology must be an enabler to truly reap the potential rewards. On the business side, we are relentlessly continuing our journey to connect the unconnected and drive the African continent as the place to be. We are at the dawn of a new era.
MTN.net and IP/MPLS network includes:
• 47 multinational points of presence
• 29 countries across the MEA region (Middle East & Africa)
• Investments in 14 submarine cables
• More than 100,000km of national and metro fibre network
• Multinational network-to-network interfaces enabling connectivity to global networks
• A backbone capacity in excess of 3Tbps
Capacity Media link - https://www.capacitymedia.com/articles/3825198/dawn-of-a-new-era