Celebrating Excellence: Bayobab Group CEO, Frédéric Schepens honoured in Capacity Media Power100 listing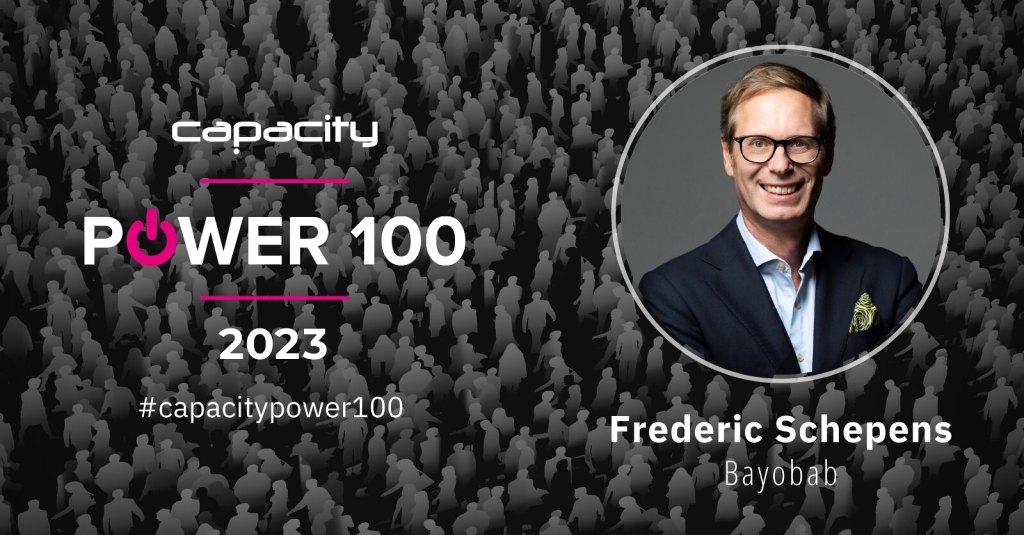 Bayobab Group CEO, Frédéric Schepens, has been recognised in Capacity Media's fourth annual Power 100 listing for 2023. The prestigious global listing showcases 100 of the most influential figures in the wholesale carrier and ICT community worldwide.
The Power 100 is a recognition of extraordinary achievements by individuals who have significantly impacted and influenced their fields and the global wholesale telecoms sector. The curated list features visionaries, pioneers, leaders, and innovators, all of whom exemplify excellence through their exceptional skills, creativity, and tenacity in their respective areas of work.
Upon receiving the honour, Frédéric Schepens, Bayobab Group CEO, remarked, "In a world brimming with extraordinary talent and remarkable achievements, it is both humbling and an honour to be recognised alongside my peers in the Power 100 listing."
The Power 100 listing encourages positive change, inspiring future generations to strive for greatness and make a difference in their chosen fields. Recognised trailblazers, innovators, and leading industry players across the globe, serve as role models, sharing their experiences and wisdom, and actively contributing to shaping the world's future.
"At the heart of the work we do, is our commitment to drive and accelerate digital inclusion across the continent while demonstrating the highest levels of care towards our societies, people, and the environment. This is enabled through our two core businesses, Bayobab Fibre and Bayobab Communication Platforms. Our key connectivity initiatives aim to provide affordable, high-quality coverage, with the goal of building an Africa-focused open-access digital infrastructure spanning 135 000kms by 2025. This infrastructure will lay the foundation for a thriving digital economy in Africa. We are firmly committed to achieving impactful growth in the countries where we operate," Fred added.
As one of 250 global nominations, this recognition stands as a testament to Bayobab's unwavering commitment to meeting and delivering Africa's fast-growing data and voice demand by delivering exceptional next-gen digital solutions. It also bridges the continent's digital divide. Furthermore, this hour underscores the significant contributions made by Fred to the industry over the past five years, as well as the visionary initiatives established by Bayobab to fuel Africa's possibilities, bringing the benefits of a digital life to various communities.