An Exciting Time to Be in International Roaming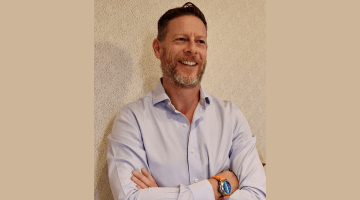 Dec 8th 2021: MTN GlobalConnect, a digital wholesale and infrastructure services company, supports Africa's digital transformation with new technologies. Leading the journey is General Manager of International Roaming Arne Casteleyn, inspired by opportunities and the change in consumer needs and expectations. Telecom Review had the chance to talk with Arne about MTN GlobalConnect International Roaming.
How has the roaming landscape changed with the increased travel we are seeing in the last few months?
We have seen a massive increase among our subscriber base now travelling and an increase in data consumption for browsing, emails and the use of OTT applications compared to 2019 (the pre-COVID era in our industry). Roaming-partner traffic and subscribers are almost back to 2019 levels. Subscriber travel destinations have been dependent on COVID regulations such as PCR testing, quarantine requirements and airlines re-opening their destinations. This has led us to focus on new destinations that were not previously in the top 50 and now need service launches.
Can you shed some light on some of your key products/solutions?
The key focus areas in the short term are 5G roaming launches, IoT revenue generation and strategic partnerships. With the latter I mean, partnering with non-affiliated MNO's where we, as MTN GlobalConnect provide A to Z Roaming Operations. Because of our scale, we can provide certain managed services and full-fledged insourcing of MNO roaming operations. We can also cater for Fixed and Mobility services and procurement managed services.
What does a modern Roaming team do and offer?
Before COVID and 5G, most roaming agreements were in place and technology agnostic, so it was relatively easy to launch 3G roaming services. COVID disrupted the way things are done and left us with exciting new challenges. To operate a quality roaming experience, Roaming teams look after commercial agreements, roaming based agreements with partners, testing and launching services, thousands of test SIM cards, roaming regulations, roaming fraud and revenue assurance, roaming VAS such as welcome messages and comms, roaming retail support, charging, billing and settlements with roaming partners, to list a few. The end consumer experience must be seamless, but it's not a plug-and-play operation for us. We depend on home network equipment, the visited network, the carriers of SS7, GRX, IPX in between, SIM card, handset, charging platforms and the multiple services that lay on top like steering of roamers for example. Roaming teams are inherently agile and reinvent themselves to deal with the emergence of new technologies like 5G, VoLTE, Blockchain and IoT/M2M.
We understand that the Y'elloConnect Communication Platforms are significant to your offering. Tell us about the Roaming Hub.
Mobile Network Operators centralise their roaming operations to work more efficiently and manage cost to revenue ratios. With new technologies emerging - efficiency is key.
MTN GlobalConnect has implemented a roaming ecosystem with several Y'elloConnect Hubs. The roaming and signalling hub are instrumental to delivering high-quality roaming to satisfy the increased demand from our subscribers travelling to more destinations on 4G, consuming more data with lower latency, and at home retail rates. Previously our Operating Companies were able to launch an average of up to 50 roaming services per year with a dozen commercial wholesale agreements. Through our centralised Roaming Hub, GlobalConnect can launch more than 1,000 roaming services and secure more than 100 commercial wholesale agreements annually. The roaming hub agreement is enabling us to reduce our roaming agreement footprint from 10,000+ agreements to 800 over the next few years. The benefits are not just efficiency. Our roamers get a better roaming experience, and more importantly roamers from our partners on the MTN network experience high-quality service.
Tell us about your latest Internet of Things (IoT) projects.
To appreciate IoT, think of smart mobiles, medical sensors, smart security system trackers or the Tesla car. These devices and vehicles need connectivity, low latency with super high network reliability. With 25 billion SIM's expected to be active over the next 5 years, the majority will be IoT devices.
We are a Pan-African company and we identify opportunities in our continent all the time. Taking a pragmatic approach, we are planning to enable African IoT projects. The African opportunity so far is in animal conservation tracking devices, mining technology, logistic and security IoT. MTN GlobalConnect will partner with global IoT players and roaming partners to provide IoT connectivity in Africa and access to African networks via our IoT cloud-based easy-access platform and dedicated IoT SIM's. Our IoT platform is called "Nubo". The Nubo platform is specialised in roaming IoT devices including the high-end security features that have become a standard in the industry. As consumers and enterprises begin to afford IoT devices globally, the demand for them will grow as will IoT devices in Africa.
You have been busy launching 5G roaming agreements. What is the latest and what are your plans?
We started launching 5G roaming services aggressively between MTN South Africa and roaming partners shortly after this technology was launched domestically in South Africa. We continue to do so in 2022.
5G and Voice over LTE (VoLTE) go hand in hand in the roaming space and both come with their challenges. MTN GlobalConnect is dedicated to launching 5G and VoLTE roaming between our MTN OpCo's and roaming partners.
A 40% increase is expected with 5G data consumption in the Western world mostly from IoT devices in comparison to 4G. To put this in perspective, an electric car firmware update takes several Gigabytes putting stress on the mobile networks/Wi-Fi broadband and it would be the same in roaming. The demand is coming from IoT technology and consumers. We predict that applications will require higher speed.
With the introduction of 5G and IoT devices as new technologies, IoT players will start to demand SLA's and we need to find new ways to satisfy this. We will continue to roll out 5G roaming services.
What are your Pan-African Ambitions for Roaming?
Historically roaming has been an expensive service to use. Over the years our wholesale rates have dropped allowing for better retail rates both due to demand and regulations. We embrace this and have learned from European and GCC experiences as well.
As MTN GlobalConnect, we are focused on reducing the shock that accompanies expensive roaming bills many subscribers still face. Specifically, in Africa, we want consumers to have a stress-free roaming experience. We want to influence retail plans to be simple and inexpensive.
In addition, we must comply with the latest ECOWAS and CEMAC regional West- and Central Africa roaming regulations "Free Roaming" that are significantly more complex than the EU for example in terms of retail and wholesale tariffs. These regulations are based on the visited local tariffs not the home tariffs. Operators are then required to make investments in infrastructure to be able to comply with this complexity.
What solutions can we look forward to in the future?
In my 20 years of working in roaming, now is the most exciting. With the world slowly returning to travel, consumers using more data, and travellers expecting high-speed internet, roaming services are in demand.
New technologies like 5G, VoLTE requirement with 2G/3G receding, the explosion of IoT, Blockchain charging evolution require us to launch services, improve the quality of roaming experience and stop fraud gaps, to name a few. The future of international roaming is dynamic to say the least and will lead to very exciting work.
https://telecomreview.com/index.php/articles/exclusive-interviews/5656-an-exciting-time-to-be-in-international-roaming%0D%0A?idU=2